Back Racing
Last year I was pretty slack in terms of racing, a situation I want to reverse this year, so on Sunday morning it was time to line up for our monthly club races at Heffron. This was also doubling as our B-Grade 2014 Club Champs, as our previous attempts to hold it had been cancelled; due to rain on the first attempt, and due to a bad crash on the second. So, we would have a race within a race; riders from other clubs going for the overall win, and also the first three SUVelo riders across the line who would comprise our Club Champs podium.
I wasn't really hoping for much as there are a few guys like Rob Cheng and particularly Peter Ristkes who have really trained up a storm last year and progressed in leaps and bounds, so my plan, such as it was, was to hang on for the first half of the race and see if any opportunities presented themselves in the second.
The gun went and we settled in to a decent pace. I stayed around the middle of the pack of 30, paying attention to where the wind was and trying to position myself in advance so that I'd be nice and sheltered down the main straight.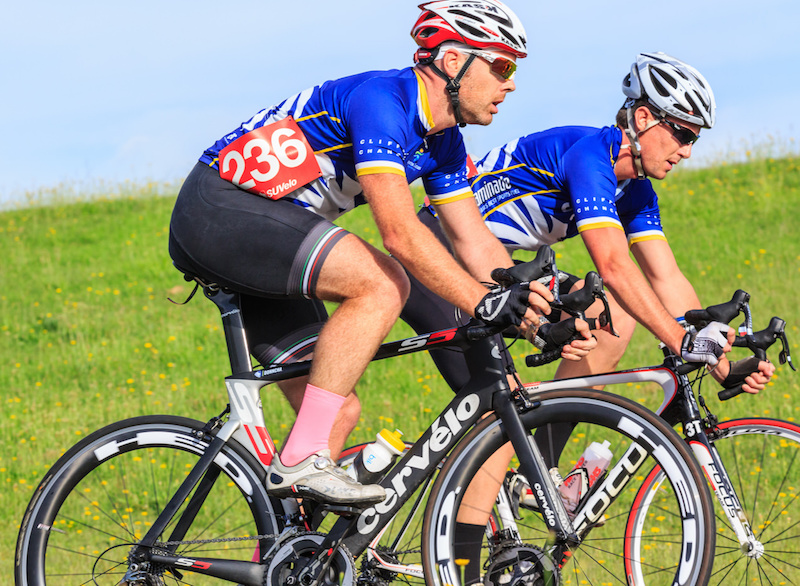 Image © Joshua Nicholson
Things were going well for the first few laps. Holding position was easy and I was cornering well and not leaving gaps out of the turns. I had a near-miss when a guy in front of me hit the brakes and swerved into my from wheel, but it was only a slight tap so I managed to stay upright. Overlapping wheels is probably the most common cause of a crash, and it's always your own fault, as guarding your front wheel is your problem. I'm pretty confident I wasn't overlapping with this guy and it was only his dab of the brakes which put me in that position, but it was still a timely reminder to concentrate!
After a few more laps I was starting to feel the effort and the constant accelerating out of each turn was starting to take its toll. The bell sounded for the mid-race prime and everything stepped up a notch as the sprinters got into position. The second half of the lap felt tough and I went bang at the beginning of the finish straight, pulling over to one side to stay out of everyone's way. Race over.
When I pulled up at the finish line I learned that we'd been lapping at almost 41km/h, which is rocket fast for B-Grade. 39km/h would be a normal pace for us, and indeed, B-Grade on the day was riding as fast as A-Grade, so going bang halfway through the race wasn't quite so disappointing.
Nonetheless, with some matter-of-fact post-race analysis it's clear I have an issue with decision making mid-race, when the going gets tough. Once the prime was over the pace settled down again for a bit, so I should have just stuck it out for a little longer and I would have had a chance to recover a bit before things picked up again for the race finish. I know that's how the race unfolds, but never processed that information when deciding to stop. A bit stupid in hindsight!
Oh well, back in the racing saddle at least!
What:
Cycling
Racing
Heffron
When: 18.02.2015 @ 17:28